We stock and supply the full range of hand held price marking systems,equipment and consumables. Although this technology has been largely superseded by more modern equipment in the retail industry, the use of the good old price marking gun is still popular and in many cases, indispensable.
Some applications that you might not have thought of before:
To identify products by means of "Batch Codes" / "Operator Number" etc.
To quickly print and apply "Best Before" and / or "Sell By" dates on for example bottle tops or plastic packets etc.
To apply colour codes to you production output.
Because of the low cost of price marking labels if compared to normal "dot" labels, it can be used in quality control to identify your "reject" products quick and easy.
PRICE MARKING LABELS:
| SIZE: | APPROXIMATE NUMBER OF LABELS PER ROLL: | NO OF ROLLS PER BOX |
| --- | --- | --- |
| 22x12mm Square | 1 500 | 20 |
| 22x12mm | 1 500 | 42 |
| 22x16mm | 1 200 | 42 |
| 25x16mm | 1 200 | 36 |
| 32x19mm | 1 000 | 30 |
All the above sizes are available in white as well as a full range of fluorescent or pre-printed colours.
All the above sizes can be pre-printed with your company name, telephone number, or any other data, e.g. SELL BY or BEST BEFORE etc. Please enquire about the different tools available. Most of the tools only print digits on 1 or 2 lines. There are also units that offer one 1 line of Alphabetical text as well as numeric text.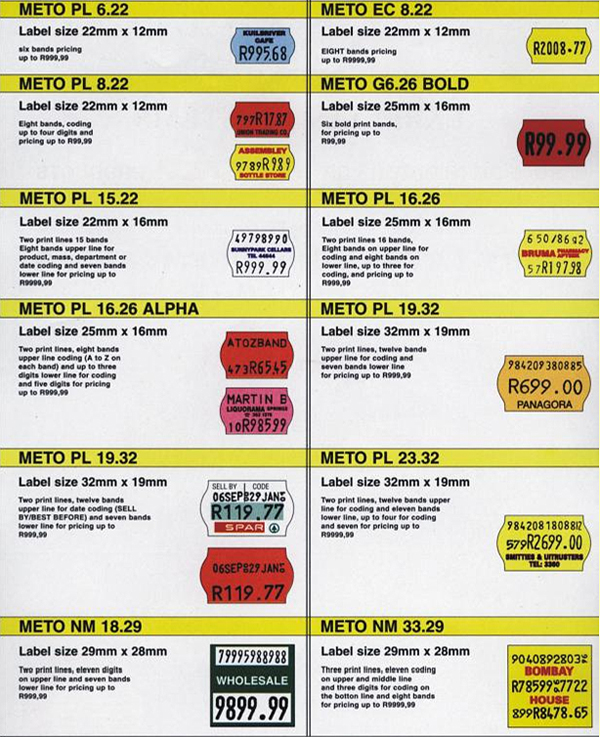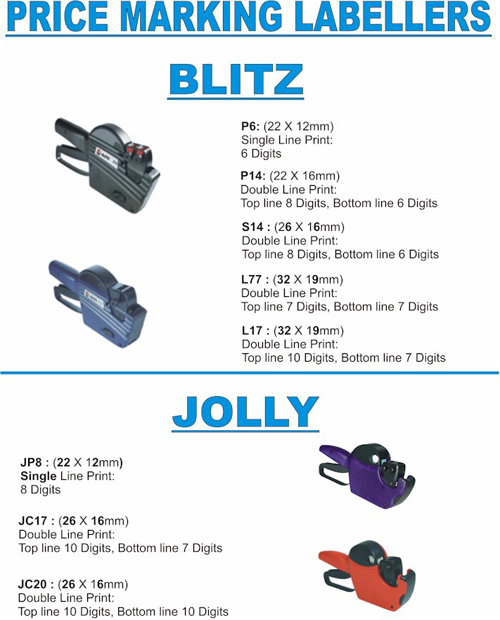 For more information on our price marking systems and equipment, contact us.